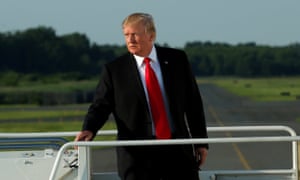 More than 3,000 people are expected to gather in New York City on Saturday for an Impeach Trump! National Day of Protest. Protesters will gather outside Trump Tower for the event, which is organized by Refuse Fascism.

The rather optimistic title – the event was initially called the Trump Impeachment Party – came to be because it was created "with the mindset that Trump would be impeached within a matter of weeks since his election", said organiser Mohammad Hamad, adding that he and others would try to turn the march into something broader in the coming months.

"We'll continue to fight the Trump-Pence regime because they've already made their agenda clear and it will have a generational impact on Americans (and the world) if they get away with it," Hamad said.
Source: The Resistance Now: a healthy dose of reality | US news | The Guardian